Go! Carpenters!


To meet the GaoGaiGar-Betterman Wiki's quality standards, this article requires general cleanup by formatting or adding more information. Because of this, the information on this page may not be factual.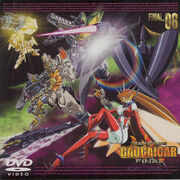 FINAL.06: 我が名はG Waga na wa Genesic; My Name is Genesic
Episode 6 concludes the battle, and ends in the destruction of GaoFighGar and Guy's purification. The Soul Masters attack J-Ark directly, and in the process Guy, Mamoru and Mikoto escape to the G-Crystal located on the replica of the moon, while J finds his J-Jewel shut down. The G-Crystal is the only thing left from the original Tri-Solar System, and it is here that Mamoru has been hiding out all this time, working to restore Galeon to its original form and programming. The Soul Masters attempt to destroy the Crystal, and their duplicate of Cain attempts to conduct Fusion with the new Genesic Galeon. It refuses, and instead reveals that Guy is within, alive and well. Guy conducts Fusion with Galeon, and Mikoto breaks a crystal plate to release the Genesic Machines, the original GaoMachines. Guy performs Final Fusion for the last time to form the God of Destruction, Genesic GaoGaiGar. Mikoto, however, is critically wounded in the aftermath. She is left nearly dead - however, if what Papillon said is true, Mikoto cannot die.
Ad blocker interference detected!
Wikia is a free-to-use site that makes money from advertising. We have a modified experience for viewers using ad blockers

Wikia is not accessible if you've made further modifications. Remove the custom ad blocker rule(s) and the page will load as expected.