Go! Carpenters!


To meet the GaoGaiGar-Betterman Wiki's quality standards, this article requires general cleanup by formatting or adding more information. Because of this, the information on this page may not be factual.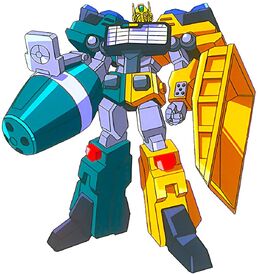 The Symmetrical-Docked form of FuRyu and RaiRyu. More offensive in nature than ChoRyuJin. Its trademark attack is "Shuang Tou Long" (literally, "Twin Headed Dragon" in Chinese), which fires two mobile beams of energy in the shape of dragons. This attack is powerful enough to penetrate Zonder defense fields with nearly no effort, but gentle enough to retrieve Zonder cores without damaging them. Can also use FuRyu's powerful self-destruct bomb as an attack, as in FINAL. The only member of the Mobile Unit whose desperation attack (namely, the bomb) is usable in Symmetrical-Docked form, and the only one to remain Symmetrical-Docked during his last scene in King of Braves GaoGaiGar FINAL.
Considered the "younger brother" to ChoRyuJin, and is overall closer to RaiRyu than FuRyu in personality.
Ad blocker interference detected!
Wikia is a free-to-use site that makes money from advertising. We have a modified experience for viewers using ad blockers

Wikia is not accessible if you've made further modifications. Remove the custom ad blocker rule(s) and the page will load as expected.