Go! Carpenters!


To meet the GaoGaiGar-Betterman Wiki's quality standards, this article requires general cleanup by formatting or adding more information. Because of this, the information on this page may not be factual.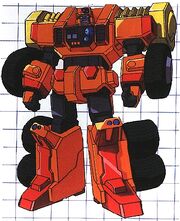 GGG Super-AI Multi-Robo, model number GMX-GH101. Constructed specifically to carry the Goldion Hammer and transform into a form, the Marg Hand, that allows GaoGaiGar to use it properly and without damage, Goldymarg is the largest of the Vehicle Machines, being the size of the Symmetrical-Docked units in his normal mode. He also has a Vehicle Mode called GoldyTank, which has a powerful Fusion Beam Cannon called Marg Cannon (in the Goldion Hammer's handle), and is capable of incredible feats, such as driving up the side of a building. In all modes, he is extremely tough and strong. His AI is patterned on Geki Hyuuma, giving him a hotheaded personality; he and Hyuuma bicker frequently, often on the subject of Goldymarg's duties.
Destroyed in Osaka during combat with Repli-Star GaoGaiGar, when Repli-Mamoru used Hell and Heaven against the Goldion Hammer. Goldymarg's Super-AI (along with a copy of the Goldion Hammer) was later embedded into the Gravity Shockwave Generating Division Tool "Goldion Crusher", which he was originally meant to simply combine with. Goldymarg was destroyed again by the backlash of using the Crusher to destroy Pisa Sol - his remains were brought with GGG into ES Space, though no longer connected to Genesic GaoGaiGar.