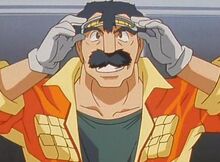 Go! Carpenters!


To meet the GaoGaiGar-Betterman Wiki's quality standards, this article requires general cleanup by formatting or adding more information. Because of this, the information on this page may not be factual.
Shigeru Akamatsu (阿嘉松 滋, Akamatsu Shigeru?) is the founder and president of Akamatsu Industries. His company worked with Mode Warp in developing the Kakuseijin, and he actively assists in their attempt to eliminate Algernon. He has an extremely inventive mind, and many of his company's products, which range from toys to military weapons, were his own ideas. His dedication to his company, however, caused his wife to leave him some time earlier, which still bothers him on occasion.
Ad blocker interference detected!
Wikia is a free-to-use site that makes money from advertising. We have a modified experience for viewers using ad blockers

Wikia is not accessible if you've made further modifications. Remove the custom ad blocker rule(s) and the page will load as expected.