Go! Carpenters!


To meet the GaoGaiGar-Betterman Wiki's quality standards, this article requires general cleanup by formatting or adding more information. Because of this, the information on this page may not be factual.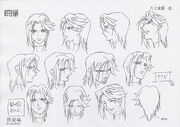 Shou Yanagi (八七木 翔, Yanagi Shou?) is a twenty-four year old Head Diver, who is usually partnered with Kaede Kurenai. Although he often shows a collected personality in front of others, he suffers from psychological trauma from when his younger brother was killed in an accident while testing early Neuronoid models. Seeing Keita Aono reminds him of his brother, causing him to break down on several occasions. He is a powerful hypnotist, and is able to hypnotize others merely by looking into their eyes. He is devoted to his partner Kaede, and after announcing her pregnancy, marries her before the final battle. He is tragically killed along with his new bride when she seemingly succumbs to Algernon and kills them both. Shou is voiced by Shinichiro Miki.
Ad blocker interference detected!
Wikia is a free-to-use site that makes money from advertising. We have a modified experience for viewers using ad blockers

Wikia is not accessible if you've made further modifications. Remove the custom ad blocker rule(s) and the page will load as expected.