Go! Carpenters!


To meet the GaoGaiGar-Betterman Wiki's quality standards, this article requires general cleanup by formatting or adding more information. Because of this, the information on this page may not be factual.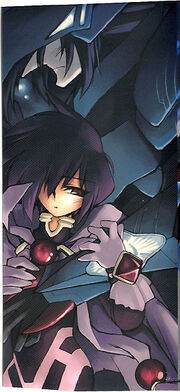 One of the Soldato J warriors who, like Soldato J-002, fell to wandering in the desert after the Red Planet's defeat, having lost his Arma somewhere along the way. Deciding to take power instead of dying, he smashed his own J-Jewel and replaced it with Zonder Metal, becoming a Zonderian. In this form he mechanized many planets and killed anyone who recognized him until he found his missing arma. He tried to kill her, but with the last of her strength she restored his memories of being a warrior against mechanization, but failed to purify him. J-019 went partially mad with grief, having killed his Arma and having memories of being a soldier but having no way to oppose the 31 Machine Primevals with his Zonderized body. He somehow obtained a doll-like version of his deceased Arma, a thing that would look and act somewhat like her but was unable to use any telekinetic or purifying powers. With her he managed to travel to Earth to confront GGG and J-002.
On Earth he challenged J-002, manipulated by the Primevals into attacking. The pair fought and J-002 was wounded, but was rescued by Arma, much to the surprise of J-019, who didn't believe there was still a living Arma left in the world. After that fight ended in a draw, J-019 attacked the GGG Orbit Base, only to be stopped by J-002 for a continuation of their battle while Arm Primeval fought GGG. J-002 won the fight, but when Arma came to purify the Zonderized 019 pieces of the wreckage flew in to kill him. The Primevals plan had been to use J-019 to distract Arma with the Purification, allowing them to kill him. However, J-019 threw himself in the path of the wreckage, sacrificing himself in the process. After having made his peace with himself and J002 before dying, his J-Ark drifted off to wander in the stars, presumably forever.
Ad blocker interference detected!
Wikia is a free-to-use site that makes money from advertising. We have a modified experience for viewers using ad blockers

Wikia is not accessible if you've made further modifications. Remove the custom ad blocker rule(s) and the page will load as expected.